TV Reception Tips
Coverage and reception from our TV translators largely depends on line of sight from our broadcast site to your antenna. This is typically good for up to 10 miles or so. Your antenna should be pointed at the translator site for optimal reception.
Your reception will be the best if you have a clear view of a site's tower. TV signals don't go through mountains, but can sometimes reflect short distances on the valley floor. Outdoor antennas almost always perform better than indoor antennas and should be pointed toward the
nearest translator site. Indoor antennas may work, but should be placed near or on a window facing the nearest translator site. When relocating or adjusting your antenna, please also perform a full channel rescan on your television each time to ensure that it searches for new or improved over the air signals.
*Aspen area: TV translator coverage in Aspen is currently limited to those with reception from Jack Rabbit Ridge. The translator site on Lower Red Mountain is currently out of commission due to an irreparable power line failure to the site. Pitkin County is negotiating with the Forest Service to relocate the TV translators from Lower Red Mountain to Upper Red Mountain. Upper Red Mountain is a solar powered site that is in the process of receiving significant upgrades and improvements to support TV translators. Updates will be posted on our updates page.
Antenna Tips
Indoor UHF Indoor Antenna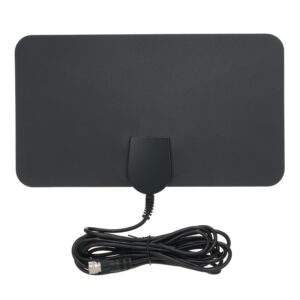 Outdoor UHF Indoor Antenna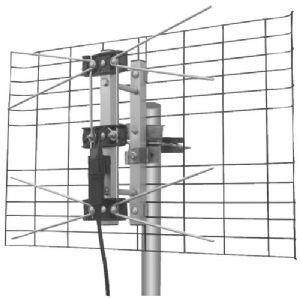 Combination UHF + VHF Outdoor Antenna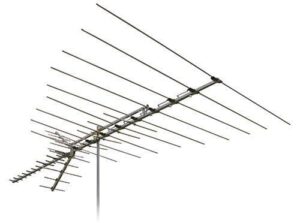 Television antennas are typically available in two types: UHF only or combined VHF/UHF. Pitkin County TV translator sites exclusively broadcast UHF signals so "UHF only" antennas are recommended. Combination "VHF/UHF" antennas will still work.

Antennas can come in both indoor and outdoor varieties. Outdoor antennas perform better than indoor antennas, especially here in the mountains. Outdoor UHF only antennas are generally smaller than VHF/UHF antennas and come in a variety of shapes. Most commonly, these look like a series of short metal rods or hoops (called elements) in front of a larger metal hoop or screen. They do not need to be roof-mounted; they can also be mounted to a pole or a flat side of your home facing the translator site. Outdoor VHF/UHF are typically larger and appear similar to the traditional roof-mounted antenna. There are varieties of outdoor VHF/UHF antennas that can be mounted to the side of your home, but due to their increased size they are typically mounted on a standoff pipe or mast, often on a rooftop.

Indoor antennas also come in a variety of shapes, ranging from an antenna that sits on top of your TV to a thin, small, flexible panel that sits in or sticks to your window. They do not perform as well as outdoor antennas, but are more compact and convenient, and do not require routing cable to the outside of your home.

All antennas can be directly connected to the standard coax input on the back of your television. Since March 1st, 2007, all new TV's sold in the US are required by federal regulation to have a built-in digital over the air TV receiver through their coax input so no additional equipment like a digital TV converter box is required.

Antenna "amplifiers" or "boosters" do not increase the reception quality of digital signals at your location. They only reduce signal loss over long cable distances between an antenna and receiver, and are usually not necessary or beneficial for home over-the-air TV viewers.
Channel Rescan
When first connecting or adjusting your antenna to receive over-the-air TV signals, it is important to perform a "channel rescan" on your television. This process directs your television to search across all of the over-the-air RF frequencies for programming. Most televisions will not automatically perform a rescan and rely on the viewer to tell it to rescan when there are changes to over-the-air TV signals or reception. Additionally if there are changes to the over-the-air programming or data as posted on this website, you may need to perform a rescan to update your TV to see the changes. The process varies from television to television, but here is an excerpt from Consumer Reports that may help if you are unfamiliar with the process:
Source: https://www.consumerreports.org/hd-antennas/rescan-tv-antenna-to-keep-getting-free-tv/
Fortunately, it's fairly simple to rescan for channels. The process varies a bit depending on what brand of TV you own, but ultimately you're looking for a control that says Channel Scan or Channel Tuning.
Start by using your TV remote control (or a digital converter box remote if you still have an older analog TV) to press the Menu or Setup button. You may see the Channel Scan control right away, or it could be one layer down, under Antenna, Channels, or Channel List. It might be called "Live TV" (for LG TVs) or "Broadcast" (for Samsung sets).
If you don't see any of those options as soon as you press the Menu button—and that's not unusual—you'll have to go one layer deeper by first choosing Settings or Setup.
Once you find Channel Scan or Channel Tuning, you may have a choice to tune automatically (Autotune or Autoscan) or manually. You want the automatic option, which will make the TV search through all the channels.
If you don't see any of these options, you can usually perform a channel scan by selecting the Input button on the TV remote or in the TV's main menu, then choosing Antenna.
Depending on the number of channels you can receive, it could take a few minutes to complete the rescan. If it doesn't work the first time, try again. We recommend doing a second channel scan anyway just to see whether you get any stations you missed on the first rescan."