Are you experiencing an internet outage?
---
Please report internet outages to your service provider directly. The contact info for Pathfinder can be found below.
Expanding Broadband Internet in Pitkin County
The Pitkin County Broadband Initiative is an ongoing collaborative effort to expand high-speed broadband internet access to data sparse areas of the county. Pitkin County Telecommunications is partnering with the City of Aspen, Snowmass Village and Holy Cross Energy to upgrade existing communication sites between Glenwood Springs and Aspen with high capacity fiber. The upgrades will provide a data superhighway through the valley allowing the expansion of high-speed broadband internet to homes, businesses, schools, libraries, medical facilities and other internet users.
Where are we at with the initiative?
Upgrades have successfully been completed at the following communication sites: Ruedi Reservoir & Thomasville, Elephant Mountain, Jackrabbit Ridge, Williams Hill and Crown Mountain. Future system expansions being considered include the Brush Creek Park and Ride, the Frying Pan and Crystal River Valleys and Highway 82 east of Aspen. See our translator map for more detailed location information.
I'm Interested! How can I get connected?
Broadband services may be available in your area through independent internet service provider Pathfinder. Please contact them directly to learn about your location's eligibility. Pitkin County only manages the tower infrastructure.
If wireless broadband is not available at your location from Pathfinder, we recommend reaching out to alternative providers including Starlink and Rise Broadband for service availability and pricing.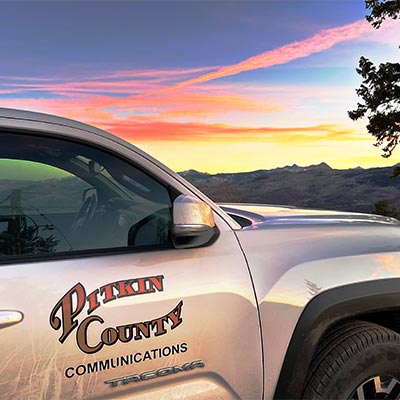 Updates & TV/FM outage notifications
---
Sign up for Telecommunications updates & TV/FM outage notifications.
*Go to Notify Me and Choose: "Pitkin County TV/FM Translator"