Do you listen to the radio in the morning for the latest snow report? Maybe you watch the evening news to catch up on anything you missed. We build and maintain the translators that provide these over-the-air TV and FM radio stations.
What is Telecommunications?
---
Telecommunications (or telecoms for short) is the practice of communicating over a distance by cable, telegraph, telephone, or broadcasting. While the technology we use continues to advance far beyond the telegraph days, our mission remains the same: ensuring users of our systems can send and receive information securely and reliably.
What We Do
---
The telecommunications team designs, builds and maintains remote mountain top communications facilities that broadcast television and FM radio to our residents and visitors and public safety professionals throughout Pitkin County.

We design and maintain a multi-use microwave radio system that connects and moves data wirelessly between our many mountain top tower sites. Think of these as invisible ethernet cables that allow us to wirelessly transfer data at gigabit speed through our system. Whether it be a television or FM audio stream, a deputy's radio transmission, a fire department communicating a gas leak, or broadband internet, we ensure that information is routed where it needs to go.

We also lead the Pitkin County Broadband Initiative to increase the availability of both fiber internet and wireless broadband services. See our broadband internet page to learn more about our high-speed efforts and if broadband service is available in your area.
Public Safety
---
We are proud to support the Pitkin County Regional Emergency Dispatch Center as well as law enforcement, fire and emergency medical services, search & rescue, municipalities, and emergency management agencies throughout Aspen, Basalt, Snowmass Village and Pitkin County. Our work ensures dispatch can make calls for service, and units in the field can communicate with dispatch and each other.

Pitkin County's public safety radio system is designed with redundancy and capacity for incidents and large-venue events like X Games, Food & Wine, JAS Fest and holidays. We operate several layered radio systems that allow communications for handing incidents ranging from a routine traffic stop to the multi-agency incident.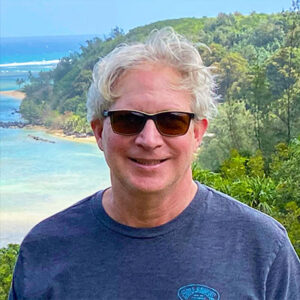 Jeff Krueger
Telecommunications Manager
Jeff holds degrees in Electrical Engineering and Computer Science and has over 35 years of experience in the communications industry. Jeff has been with Pitkin County for six years and previously worked for Northup Grumman, Boeing Aerospace and Lucent Technologies. Jeff and the highly skilled Telecommunications Team operate and maintain 12 mountain-top communication sites and provide TV/FM, Broadband and Public Safety services for the entire County.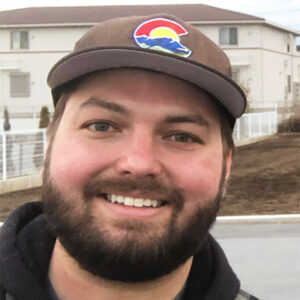 Drew Petersen
Communications Project Engineer
Drew has a degree in Electrical Engineering and has worked for Pitkin County since 2016. Prior to returning to his home state of Colorado, Drew worked in electromagnetic defense systems for the US Navy, federal RF exposure standard research and testing, and digital microscopy labs. He and his dog Rigby work with the rest of the team to maintain, improve, and expand telecommunications services throughout the valley.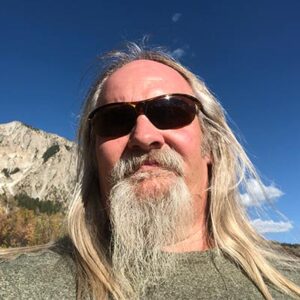 Jeff Goelz
Radio Specialist
Jeff spent six years in the US Navy working in aviation navigation and communications, with assignments in New Zealand and Antarctica. After 20 years working as a Communications Technician with a Large Multistate Gas and Electric utility in the Midwest, he moved to Colorado in 2010. He came to Pitkin county in 2012 and works as a Communications Specialist maintaining the County's microwave backhaul system, Public Safety Communications & 911 dispatch equipment and TV/FM translator equipment.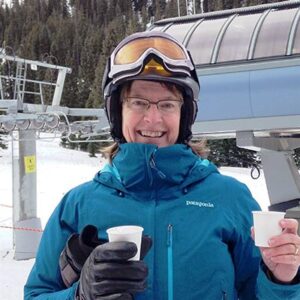 Michele McClinton
Administrative Specialist
Michele has been serving Pitkin County for 3 years and previously worked at the Aspen Police Department for 16 years as a Customer Service Officer and Evidence Custodian. Michele is also retired from the Aspen Skiing and Snowboard School after teaching 37 years.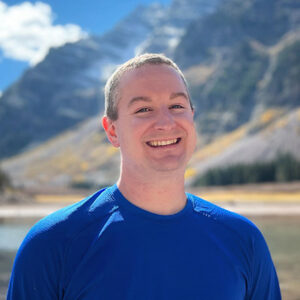 Kyle Nelson
Communications Project Engineer
Originally from Wisconsin, Kyle has over 10 years of experience in public safety, emergency management, training and education. Prior to joining the Telecommunications team, Kyle served as a 911 Dispatcher & Training Officer for the Pitkin County Regional Emergency Dispatch Center. Kyle also operates as a Planning Section Chief and Situation Unit leader on the Pitkin County and Northwest Colorado Incident Management Teams. When he's not hanging out on a tower, find him traveling, hiking, downhill skiing and tracking weather impacts in the valley.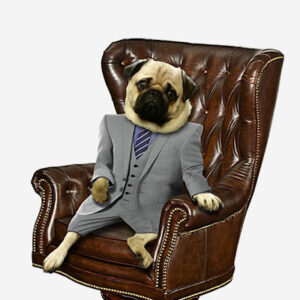 Mr. Riggs
Chief Executive Mascot & Goodest Boy
Mr. Riggs is a staple in the Office, always keeping morale high and dog treats eaten. He has many years of experience receiving pets ranging from "I would rather be napping" to "That's the spot." He's tried his hand at desk work and field work but has found his niche as door greeter and crumb cleaner. When not in the office Mr. Riggs can be found roaming Pitkin County in search of new smells.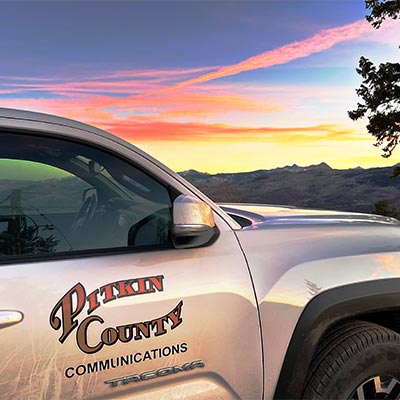 Updates & TV/FM outage notifications
---
Sign up for Telecommunications updates & TV/FM outage notifications.
*Go to Notify Me and Choose: "Pitkin County TV/FM Translator"